Pitfalls of painting your own kitchen – Part 2
Painted kitchens by the Refinishing Touch in your choice of colour will look amazing. There are many pitfalls of painting your own kitchen, not least skimping on the preparation – I know I go on about it but it's such hard work but truly vital to the final look and durability of the finish.
Here in my opinion are reasons 4 – 7 of why painting your own kitchen is not as simple as you may think and why using the Refinishing Touch might prove to be your best value option.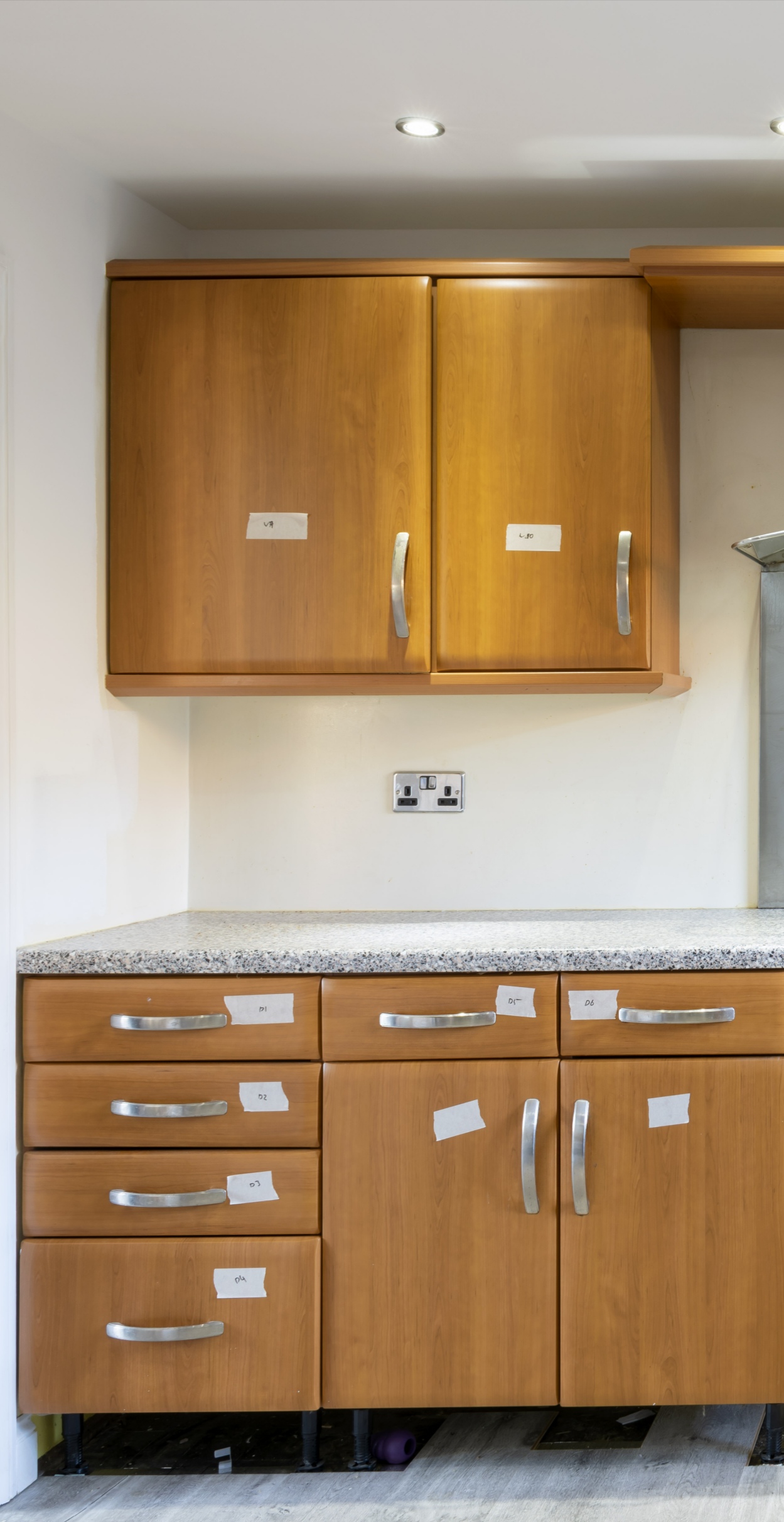 Pitfalls of painting your own kitchen
Not removing the doors and drawers
You may decide the quickest way to achieve your new look would be to paint your door and drawer fronts while in place. This may turn out not to be a long term fix. If you paint over hinges and around hardware, these areas will start to show wear and tear very quickly.
The Refinishing Touch will remove all your door and drawer fronts, your knobs, handles and hinges. If you want to replace your handles, this is the time to do it. Original holes will be filled as if they were never there and re-fit with your choice of new hardware. This can make a massive difference to the final look.
Not marking where you took each door or drawer front from
Most kitchens have more than one of the same size door or drawer front. Each needs to go back exactly where it came from. You just need to come up with a numbering system that makes sense to you; also make sure you keep your hinges, screws and handles (if re-using) somewhere safe.
At the Refinishing Touch we are very systematic in the way we work. The process of dismantling your kitchen and more importantly the re-fitting will go both smoothly and quickly too!
Not enough sanding
Wood, MDF, laminated panels or any other materials that may have been used in your kitchen will need to be sanded to provide a good key. This is a hard, time consuming and vital part of the job before any new surface can be applied. Without this essential but unseen stage at the beginning and between each coat, that beautiful finish will not last.
Not cleaning up between coats
Whether this is before you prime or between primer coats and top coats, you will need to ensure you clear up any dust and debris. Dust on your surfaces before you apply your paint will result in a gritty finish. This will require more sanding and repainting.
The Refinishing Touch use equipment that extracts and traps the dust as they go. This guarantees we leave your finished surfaces as smooth as if they were new. See more
To be continued……………………………