Professional Surface Restoration FAQ's
What areas do Ace Surfaces cover?
Ace Surfaces cover Norfolk, Suffolk, Cambridgeshire & Essex.
Talk to us about our ability to provide National Contract Service Levels.
How much will I save with bath refinishing as opposed to replacement?
Refinishing your bath with Ace Surfaces will save you hundreds or even thousands of pounds over bath replacement. While a brand new bath may only cost £500 , there can often be several hidden costs to replacement such as removal and disposal costs, plumbing alterations, and tile work. These costs add up, and you can easily end up spending thousands.
How long does the bath refinishing process take?
Our refinishing process typically only takes 6-8 hours to complete.
Your bath will usually be ready to use after 8 hours.
How long will my bath last?
The durability of a bath refinished by Ace Surfaces is very similar to that of a brand new bath. If properly maintained and no abrasive chemicals are used for cleaning it will last you many years just as a brand new bath would.
Do you offer a warranty or guarantee?
Refinishing Touch offers an industry leading 5 year written guarantee for all of our work. Our guarantee covers 100% of any defects in workmanship or materials throughout the entire life of the guarantee.
How do I care for and clean my refinished surface?
Refinished bathrooms and kitchens are often easier to clean than the original product. Make sure you use mild, non-abrasive cleaning products. Just as with a new bath or worktop, the finish or shine can be dulled by abrasive cleaners.
Will my refinished surface smell like it has been painted?
Our technicians come equipped with full ventilation systems to extract the fumes that do naturally occur with the use of solvents. Although you may notice a slight odour, this typically is gone in a few hours.
What other surfaces do you refinish?
Refinishing Touch offers a wide variety of refinishing services for almost any surface in your bathroom or kitchen, including Baths, Tiles, Sinks, Cabinets and work tops.
What colours do you offer?
We can offer a wide variety of factory-ready colours.
Do you repair cracks, chips, and scratches?
Our technicians will fill in any chips or other imperfections in your bathtub or other surface prior to the refinishing process, making your damaged porcelain, acrylic, or fibreglass surface as good as new.
I am interested in having my kitchen renovated but can not afford the disruption of not being able to use my kitchen for two – three weeks ?
We can complete most kitchen makeovers in a matter of days, saving you time and money. The average Kitchen can be completely transformed within a week. See picture gallery for examples
How does the product help the Environment ?
As we resurface your existing bathroom or kitchen, the amount of waste being sent to landfill is almost eliminated, and there is no manufacturing or transportation of replacement components.
Kitchen after Refinishing Touch Refurbishment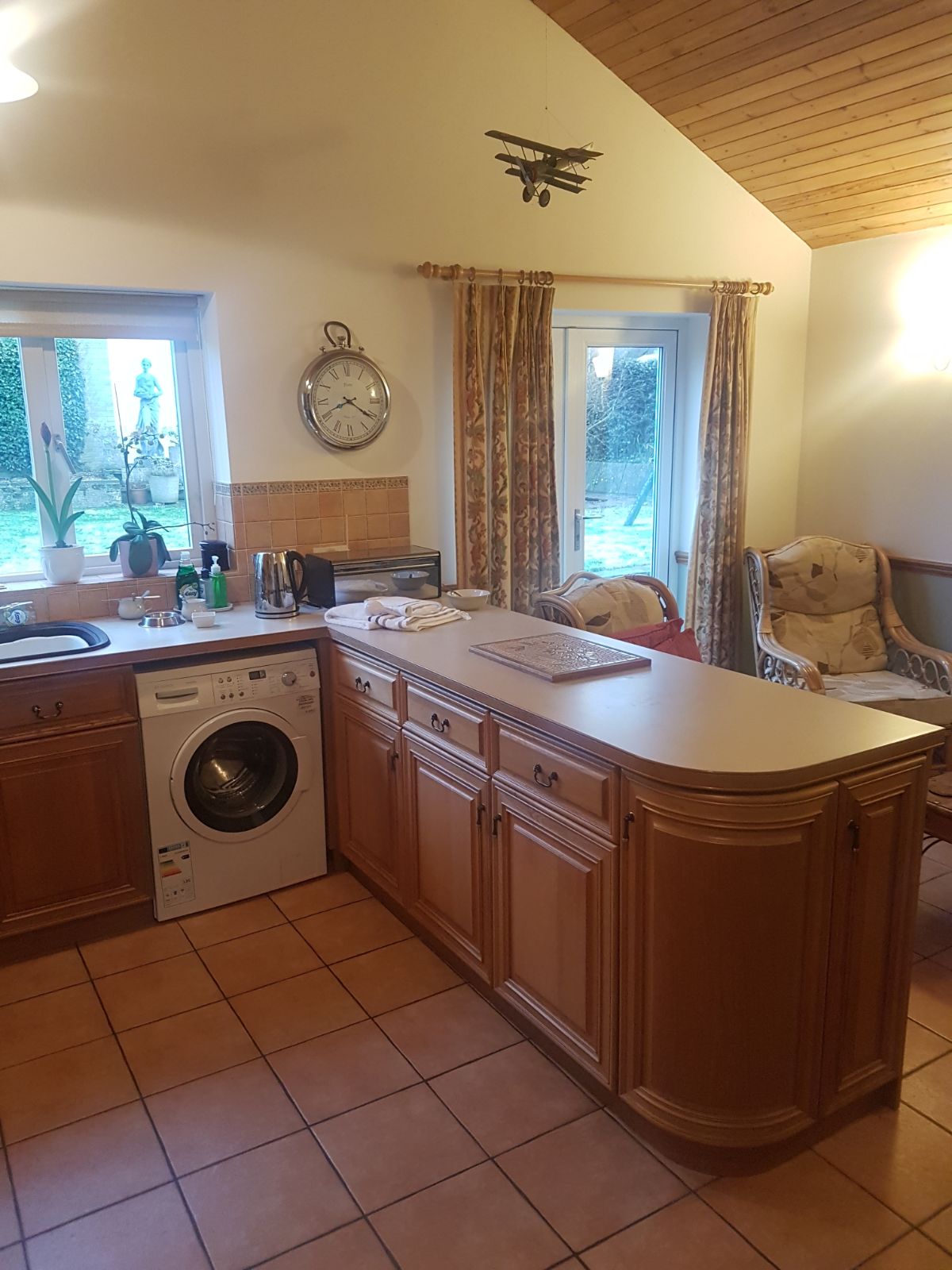 Kitchen before Refinishing Touch Refurbishment