Repairs to sanitaryware in hotels
Research has identified that clean and well-maintained bathrooms are a major factor in guests selecting the hotels in which they wish to stay. Whether it be up market chains or budget hotels ensuring that rooms are clean and presentable appears to be a priority.
During a refurbishment for a hotel our customer identified the state of the toilets as a major concern. There was a significant degree of unpleasant discolouration below the water line caused by limescale. There were also chips to the toilet pans above the water line (as well as to the basins) which the hotel wanted to be repaired. The replacement of the toilet pans was not within the budget and so an alternative solution was sought.
Bearing in mind that there were fifty-seven toilets in the hotel, which were damaged, we set up a trial. Mending heavily used toilets are not the most popular of repairs for my colleagues so I undertook the work myself. I began by draining a toilet and used different tools to remove the limescale, which had turned brown. Having chipped off the most extensive areas of limescale, I used specialist cleaning materials with a slight acidity to scrub the surface so that it looked absolutely clean. Using a slightly alkaline solution to neutralise any remaining acidity the toilet was then flushed. The toilet now had a good as new look below the water line.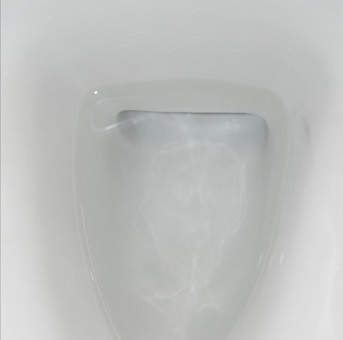 Turning my attention to the small chips, I drained the toilet and made sure the toilet was dry. I filled the chipped porcelain using a two pack body filler and allowed it to harden. Once the filler had cured I sanded back the repair using progressively finer grades of wet and dry sandpaper. Using a resin, which is specially designed for baths and sanitaryware, I made a colour match. Once I was satisfied with the colour, I applied a chemical bonder and then sprayed a new finish onto the toilet pan and basins as required. Within four days all fifty-seven bathrooms were clean and presentable with the repair work undetectable.