Scratched and chipped kitchen cabinet doors
The Refinishing Touch relies on construction sites and house builders as a major source of repair work. Sites generally have plans for protecting exposed surfaces. Doors, window frames and floors will usually be covered with corrugated or plastic sheeting. With a large number of trades carrying and using heavy equipment on site some level of damage is almost inevitable. As pictured with these scratched and chipped kitchen cabinet doors. Mending this damage usually requires skilled technicians to deliver undetectable repairs.
Carelessness can cause damage
The following types of fixtures and fittings can be damaged by carelessness on site – chips and scratches to floors, doors, window frames, tiles, sanitary ware, panes of glass, furniture, worktops, vanity units and white goods.
Professional repairs
This week one of our technicians repaired a series of kitchen cabinets in a large development in the East End of London. These are especially challenging to repair when the scratch or chip is in the middle of high gloss panel. With modern kitchen down lighting, the level of difficulty increases. The intensity of the lighting helps make any blemish more obvious.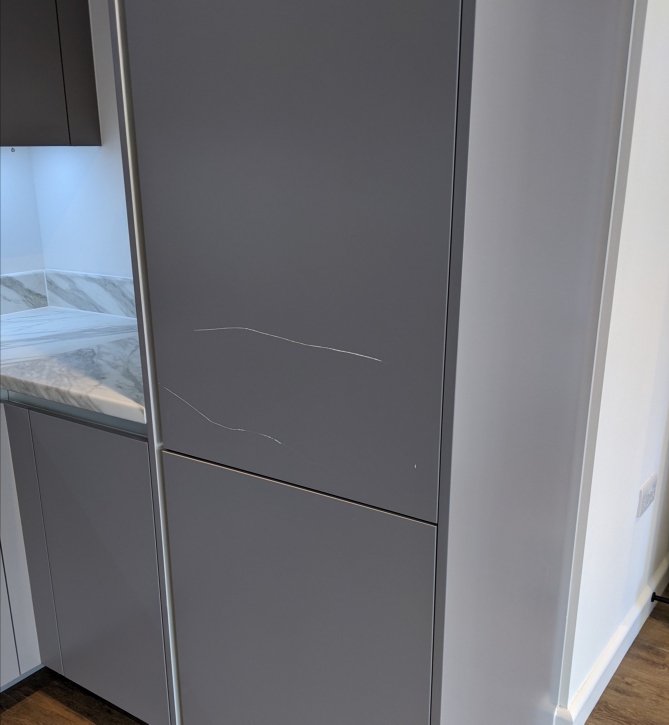 Fortunately, this week the cabinet doors were a relatively low gloss (satin) finish. Unfortunately, the scratch on the door in the attached picture was deep and obvious. The lighting was also pointing directly at the door panel. Getting a precise colour match was essential. The damage cannot be sprayed without the technician removing the scratch first. If it is deep, as in this case, the finisher used a body filler.
Making it worse before it gets better
The technician opened up the scratch and then fills it. Once the filler has hardened, he uses wet and dry sandpaper to smooth the surface. He finishes sanding with an extremely fine grade sandpaper to leave the repair smooth and flush to the rest of the surface. My colleague cleaned the area about to be sprayed using a de-greaser. Finally, he applied the colour matched new finish by spraying the surface of the kitchen door. He feathered in the edges of the repaired scratched and chipped kitchen cabinet doors, so that the new finish blended seamlessly into the rest of the door.
Once he had finished spraying he left the new surface to dry. Job complete and move on to the next piece of damage.